Bob's Journey to Keep Pushin'
My name is Bob Desautels. On December 11 of 2021 I was a healthy father of three with everything going well in my world. I loved golfing, football, jogging, and playing basketball. My only struggle at that time was that I was suffering from what I thought were side effects from a new medication that I was taking. This medication's side effects include dizziness, loss of balance, headaches, and overall fatigue, all of which I was experiencing. As I was closing up my office for the day on December 11th my body gave out on me and I fell to the floor. I was alone in my office. I was having a seizure and wasn't sure why. Just a few hours later I discovered the reason why. I was informed that I have a rare and incurable Brain tumor called a glioblastoma multiforme. It is a very aggressive type of brain cancer. I was admitted to surgery the next morning where they removed 93% of the tumor. While that sounds very promising, the remaining 7% has one job, to feed and grow. Even after radiation and Chemotherapy treatment that is exactly what it did, it grew. So as I sit here now, just nine months later, I am in the process of a clinical trial to help slow this cancer down. The trial is at Dana-Farber Institute in Boston. It has been a very difficult nine months to say the least, something I feel no one should ever have to go through. Every day is different; energy levels are different, anxiety levels are different, and everyday is a challenge. I must " keep pushin" everyday.
It's time to find a cure! I created this event for the sole purpose of raising money to put an end to brain cancer once and for all. This event is designed to help fund Dana-Farber's research specifically into brain cancer and tumors. Your participation and contributions are so important and valuable to me and so many people that share this diagnosis. I want to show my children that everyone can make a difference! I thank you for your participation and let's hope that our efforts together can play an important role in ending brain cancer.
The name Keep Pushin comes from a song by my favorite band, REO Speedwagon. After my first surgery that song played on my playlist. I knew immediately it was going to be my anthem for this fight and it needed to be my purpose and inspiration… " Even if you think your strength is gone, keep pushin' on."
So let's keep pushin' to end brain cancer!
I want to personally welcome you to the 1st Annual Keep Pushin' Golf Tournament. We're glad your apart of this legacy we are creating!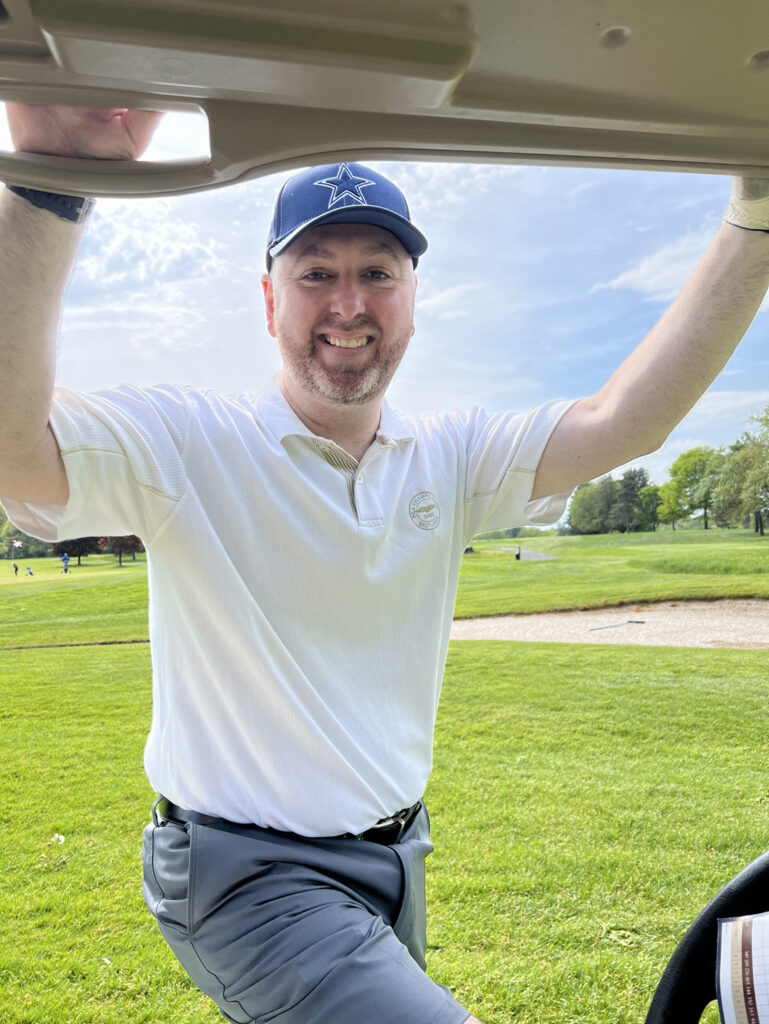 Click the button below to download the registration form and mail in your payment. Questions? Email us at [email protected].
Sponsorship Opportunities
All proceeds will go to the Jimmy Fund in conjunction with Dana Farber's Brain Cancer Research Department.
Email [email protected] to become a sponsor!
This is your opportunity to be an exclusive sponsor of 1 of the 18 holes. Distribute branded merchandise, create a short game or make the list of future leads. Your business name to be prominently announced at the awards ceremony.
Your logo and branding message printed on a Tee sign and displayed exclusively on one hole.
Sponsor A Hole with a Twosome
All the benefits of a hole sponsorship plus two admissions to the tournament.
Your banner hung exclusively in the banquet room during the entire awards ceremony.
Chipping or putting contest sponsor (First come-first served) Your busienss will be the exclusive sponsor of one of these contests.
Your business exclusively displayed on merchandise bags given to all golfers at registration. These bags will be used for players to fill up on branded items from all hole sponsors. $500 includes your logo printed on the bag.